Club Core is the only club software that helps General Managers take charge of member engagement, staff communication, training and board relations - without adding hours to an already busy day.
The same experience for every member and guest - guaranteed!
Golf course demographics and expectations have changed. Younger and older members alike expect technology like your club app to anticipate their preferences, respond to requests and provide an always-on, positive club experience.
Confidence that staff is trained to your standards
Need a 5-minute video to teach the perfect martini or an equipment safety course for your grounds crew? Club core is preloaded with training courses and micro-learning videos that are field-tested and proven at the country's leading clubs.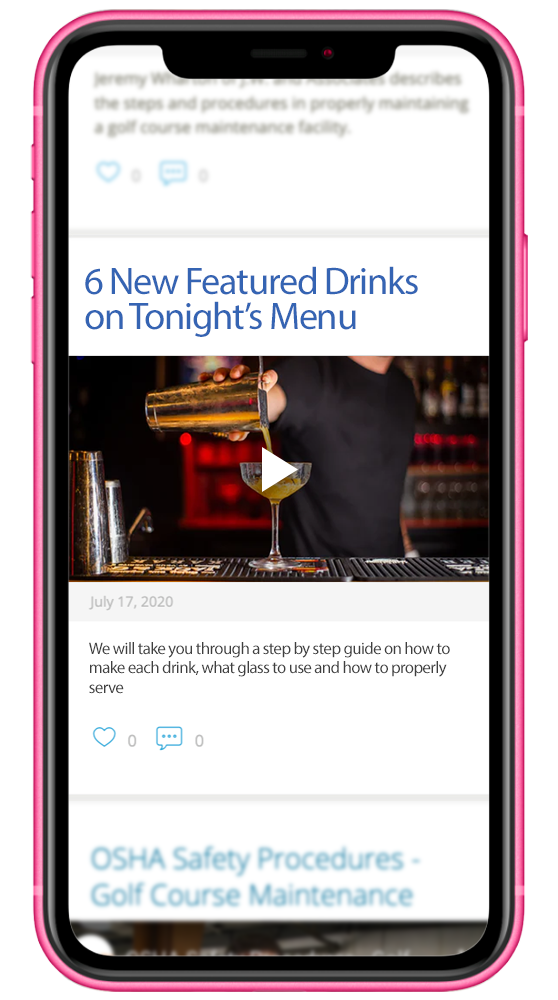 Staffing and club HR made easier​
Let's get real about the challenges of a seasonal business and staffing. Golf and country clubs don't often have a dedicated human resource team but need to ramp up quickly while meeting employment standards.​
A simpler way to collaborate with your board and committees
The best General Managers know that managing a board is part communication, part diplomacy, and a lot of time.
Set clear guidelines and establish lines of separation with tools to collaborate, track conversations and onboard new committee members, using fewer man hours of management and staff time.
Keep the whole team up to date
Email and text isn't the best way to communicate with staff. Reach employees using your app on their phone to get critical messages through.
The missing link in your club's software
Other club software is great for your operational needs like POS and tee sheets, but doesn't help to enhance a club atmosphere. Club Core can integrate seamlessly with your other club management tools - just link to your membership and employee rosters and you're ready to go.